Looking after the little ones whilst juggling a hectic schedule can leave limited time for yourself. As a busy mother it can sometimes seem impossible to find the time to put aside to exercise.
Don't worry we've got you covered, as always we are determined to bring you awesome workouts and advice from some of the best Personal Trainers around the globe.
"The glute band helped me tone my glutes and thighs faster..."
This week Dejan caught up with fit mum Annamaria, co-founder of the renowned A&A Personal Trainers studio in Rimini, Italy on how she manages to stay in fantastic shape all year round using resistance bands when short for time.
 "Hi, my name is Annamaria, I'm a very busy working mom that loves my family and the outdoors. I have two kids, Leonardo (10) and Virginia (2). Originally I'm from Zagreb, Croatia but I've lived in Rimini, Italy for the last 20 years."
How did using glute bands help with your recovery postpartum?  
Glute bands and also other "Let's Train" resistance bands are one of my favourite fitness tools that I used post-pregnancy in home workouts when given the 'all clear' after my 6-week post-natal check-up.
The glute band helped me tone my glutes and thighs faster and it was not only helpful for my self-esteem but also it helped with my posture as I had back pain from muscle weakness after pregnancy. Glutes are such an important muscle, that when trained correctly, can actually take away pain from your lower back.
 How would you incorporate glute bands into your routine?
I recommend light resistance glute bands such as the L1 Glute Band when recovering postpartum and then building up to the harder ones as you gain strength.
 Let me remind you that you can start postpartum workouts, approximately two months after giving birth to let your body settle properly. Postpartum is very delicate for a new mom and so whatever fitness activity you choose, it needs to be very light. 
 Can you give us a typical home workout you do now when short for time using the glute band? 
When I have no time for my workouts I do a short circuit of 3 exercises maximum, where I activate my glutes, legs, arms and abs! Mostly I have very short, or no rest time between exercises. I repeat the circuit 3-4 times! It works miracles for me!
Annamaria's Full Body Circuit
1. Open Knees Bridge with Glute Band 15-20 reps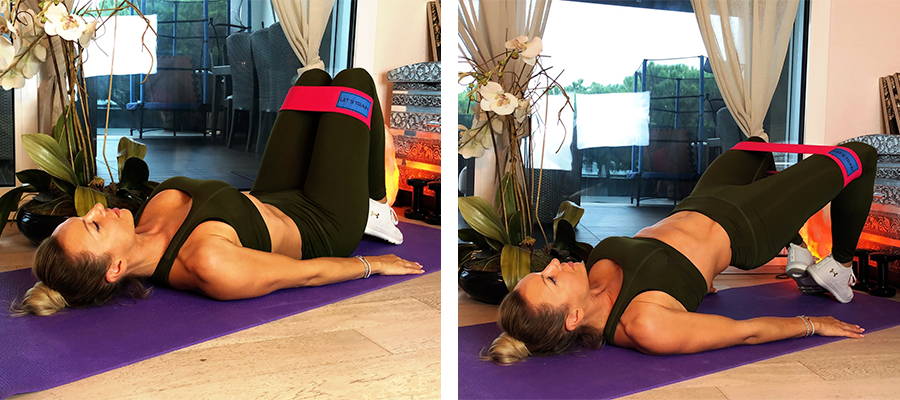 Drive hips upwards and push legs apart, hold and return to the start.
2. One Arm Lateral Push Up 10-15 reps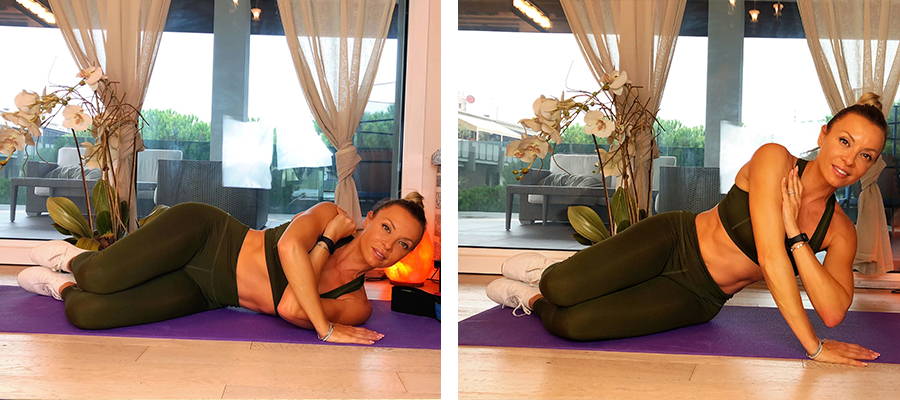 Make sure to train both sides.
3. Alternating Reverse Crunch (Band Optional) 20-30 reps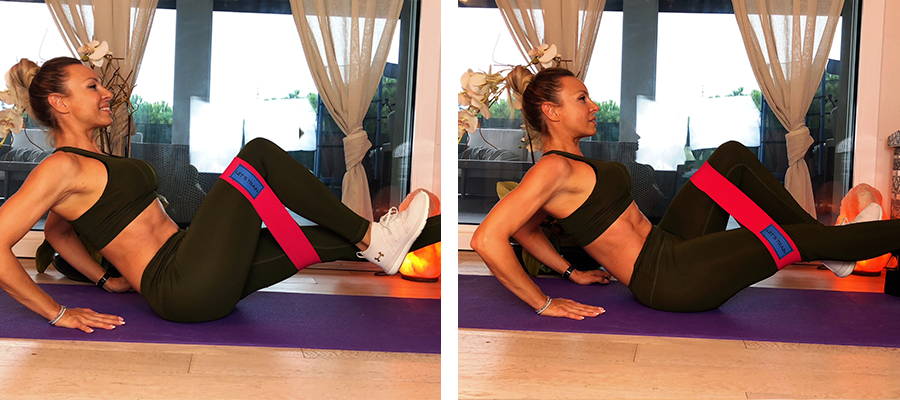 Try perfoming these slow and controlled.
How do you find time to workout when also looking after the little ones? 
It's never easy but if you put your mind to it, you can manage! It would mostly be around my kids and during the baby's nap time. Also when my son was doing his homework with my baby girl often in my arms :)
Looking after two lovely kids, training clients and running a business, Annamaria is certainly one of our Modern Day Warriors, motivating a stream of mums finding it difficult to stay in shape!
Instagram @missanne_fit
Remember!
Recovery post-pregnancy is never any easy task and it should always be a careful process, slowly incorporating light exercise into your daily routine when you and only you feel ready.
Make sure to wait until your six-week postnatal check-up before debating whether to start exercising again. If you had a caesarean birth it may be 8-10 weeks before you are able to perform light exercises.